BitDefender Antivirus Plus 2012
is one of the world's largest antivirus that provides security for Windows-based computers against viruses, spyware and phishing attempts.
It defends against viruses and spyware Halts ID theft attempts Gives advance warning of risky websites Unparalleled Security Absolute Silence Safe Social Networking Full Speed Total Privacy and much more.
Official Page
Proven security that protects against viruses and spyware.
Protects irreplaceable files, such as family photos and personal financial documents
Identifies spyware and adware before they can run on your PC
Cleans viruses and virus-like threats automatically
Prevents the spread of viruses to other PCs
Updates automatically to protect against new threats
This download is for a 30 day trial.
Download
ESET NOD32 Antivirus is the most effective protection you can find to combat today's huge volumes of Internet and email threats. It provides comprehensive antivirus and antispyware protection without affecting your computer's performance.

Using advanced ThreatSense® technology, ESET NOD32 Antivirus proactively protects you from new attacks, even during the critical first hours when other vendors' products aren't aware the attack even exists. ESET NOD32 Antivirus detects and disables both known and unknown viruses, trojans, worms, adware, spyware, rootkits and other Internet threats.
Download Now
AVG Anti-Virus Free Edition
is trusted antivirus and antispyware protection for Windows available to download for free. In addition, the new included LinkScanner® Active Surf-Shield checks web pages for threats at the only time that matters - when you're about to click that link.
Features include Award-winning antivirus and antispyware, Real-time safe internet surfing and searching, Quality proven by 80 million of users, Easy to download, install and use, Protection against viruses and spyware.
(32-bit) Download, (64-bit) Download
avast! Free Antivirus represents the best free antivirus protection currently available on the market. This edition is FREE OF CHARGE for non-commercial & home use.
Its features include Anti-spyware built-in, Web Shield, Anti-rootkit built-in, Automatic updates, Strong self-protection, Virus Chest, Antivirus kernel, System integration, Simple User Interface, Integrated Virus Cleaner, Resident protection, Support for 64-bit Windows and P2P and IM Shields. Download Now
Kaspersky anti-virus protects you from the Phishing and Malware sites that you wouldn't otherwise know were attempting to steal from you.
At the same time, the Kaspersky Security Network allows your computer to report when it discovers a threat that hasn't been seen before. All 250 million Kaspersky users benefit from our combined knowledge. Download Now
Norton Antivirus stops viruses, worms, spyware, bots, and more - Keeps your system protected against all types of malicious threats. Norton Insight delivers innovative intelligence-driven technology for faster, fewer, shorter scans.
Rapid pulse updates every 5 to 15 minutes provide you with up-to-the-minute protection. Norton will also prevent virus-infected emails and instant messages from spreading, so you can feel secure while you keep in touch. Lastly, Norton blocks browser exploits and protects against infected Web sites.
Download Now
Avira AntiVir Personal Antivirus is a reliable free antivirus solution, that constantly and rapidly scans your computer for malicious programs such as viruses, Trojans, backdoor programs, hoaxes, worms, dialers etc.
Monitors every executed by the user or the operating system and reacts promptly when a malicious program is detected. Download Now
Panda Cloud Antivirus protects you while you browse, play or work and you won't even notice it. It is extremely light as all the work is done in the cloud.

Panda Cloud Antivirus provides you with the fastest protection against the newest viruses thanks to its cloud-scanning from PandaLabs' servers. The Antivirus is truly install and forget. Don't worry about updates, configuration or complicated decisions ever again. Download
Microsoft Security Essentials
provides real-time protection for your home PC that guards against viruses, spyware, and other malicious software.
Microsoft Security Essentials is a free download from Microsoft that is simple to install, easy to use, and always kept up to date so you can be assured your PC is protected by the latest technology. It's easy to tell if your PC is secure.
Download Now
Emsisoft Anti-Malware
monitors all active programs in real time for dangerous behavior and can detect new unknown Trojans, Worms, Viruses and other damaging programs without daily updates.
The signature-based security (Emsisoft and Ikarus double engine) ensures a very high recognition rate of known Malware such as Trojans, Worms and Viruses.
Download Now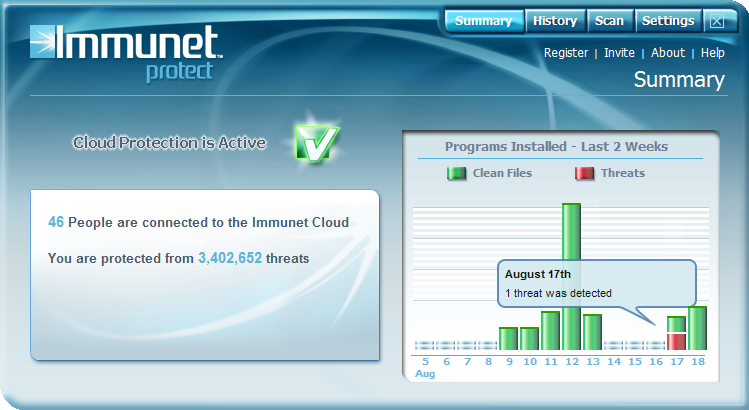 Immunet provides essential antivirus protection for PC users. Immunet provides extra antivirus protection that is light, fast and compatible with existing security products.
Fast Antivirus: Immunet leverages the speed of cloud computing to deliver real-time protection to your PC.
Download Now